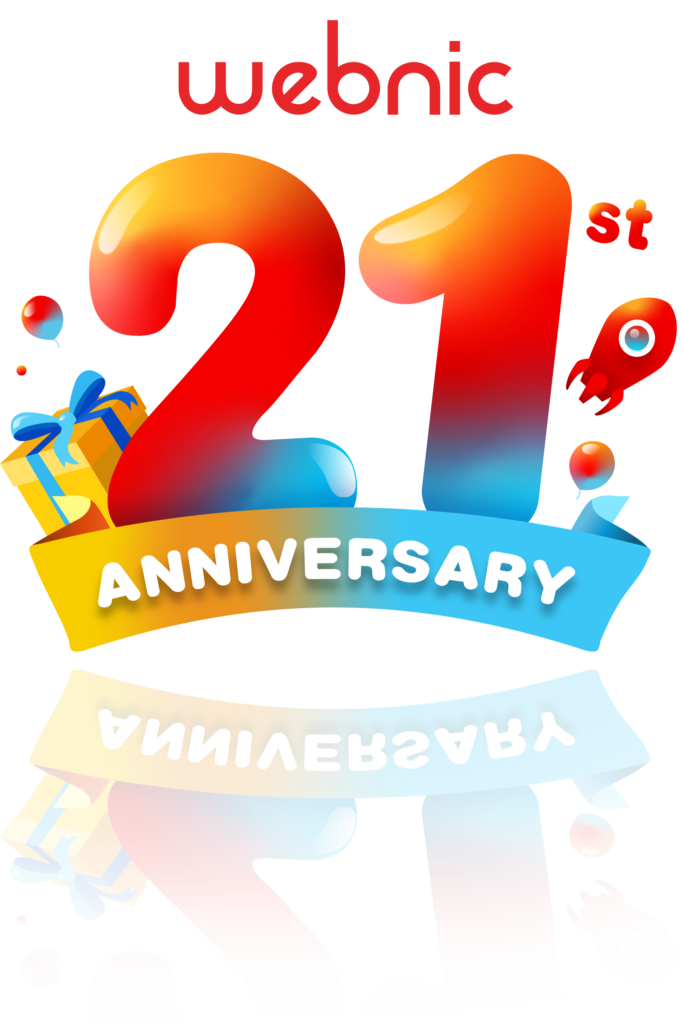 Celebrating 21 years in the Internet industry!
Thank you for the support
from our global community of partners throughout the years!
It has been an amazing 21 years! Thank you for being with us.
We look forward to continue serving you in the future!
Our CEO expresses a huge thanks to all our partners!
WebNIC's 21 years in a glimpse!
WebNIC started humbly back in 2000. It was a risky time period for any tech companies, between the dot-com bubble (1994 – 2000) and the start of the dot-com crash (2000 – 2004). However, founders TK Tan and ST Wong never feared and shared a great vision for the future of the technology industry. They held a strong belief that the technology industry will ride out the storm and welcome a new age of explosive growth and that it will shape the foundation of our society.
The founders steered WebNIC in the direction of aiming to become the domain industry disruptor and is still doing so to this date. Back then, with a background in such a trialling period of time for the technology industry, where nothing seemed to be in shape, WebNIC has played a major role is shaping the way the domain industry works today as we know it.
Today, WebNIC has evolved into a leading authority in technology services, a one-stop online solution wholesaler furnishing the best solutions to meet business needs. WebNIC has connected the dots between global technology experts and helped shape the current Internet domain industry. WebNIC has also become a strong identity in helping to accelerate the growth of technology businesses globally.
All of these would not be possible without your support!
Thank you, partners!
To make our anniversary more meaningful and memorable,
we wish to help the community!
Introducing WebNIC 21st Anniversary
Our program objectives are helping SME to:
Combat the economic impacts of the COVID-19 pandemic with FREE online starter package.
Overcome uncertainties of intermittent lockdowns in the new normal.
Ensure business continuity and survival.
Take advantage of financial and technological resources to go online.
Enable brick and mortar businesses to transfrom into an online store with an online business presence.
Small & Medium Enterprise Empowerment Program
FREE Digitalisation Package
Program Period: 1 July 2021 - 31 December 2021
1. We reserve the right to accept or reject your application, based on your eligibility.
2. The program is on a first come, first served basis.
3. Limited quantities! Only 50 free packages to be claimed.
4. You will receive a confirmation email upon successful enrolment.
We Just Want To Say A Great Big Thankyou
to all our valuable partners who are celebrating this important occasion with us!
Thank you for the exclusive promotions for our 21st anniversary celebration!
Don't miss out these great deals!
Get your discounts before they are gone!

Thank you, valued partners!
We look forward to continue working with you in the future! We will work hard to serve you better with improved services & more products that will benefit your business.
Stay tuned for more news from us!