In today's fast-paced work environment, effective teamwork and seamless collaboration are essential for achieving organizational success. With the rise of remote work and distributed teams, having a reliable and versatile collaboration platform is crucial. Microsoft Teams, a part of the Microsoft 365 suite, offers a comprehensive solution for team communication and collaboration. In this blog post, we will explore the key features and functionalities of Microsoft Teams and provide tips for using it to foster effective teamwork. 
Getting Started with Microsoft Teams
Microsoft Teams serves as a centralized hub for team collaboration, bringing together chat, video meetings, file sharing, and project management capabilities. It offers a user-friendly interface that enables seamless communication and efficient workflow within teams. To begin using Microsoft Teams, you can either download the desktop application or access it through a web browser. Once you log in with your Microsoft 365 account, you can create a new team or join an existing one. 
Teams act as containers for collaboration and can be organized based on departments, projects, or any other relevant team structure. Within each team, the owner can create different channels to focus discussions and content around specific topics and invite colleagues to that channel. For example, a marketing team might have channels for social media, content creation, and campaign planning.
Chat and Instant Messaging
One of the core features of Microsoft Teams is its robust chat functionality. Within each team, team members can easily locate the channels, start a post and participate in discussions. It fosters a collaborative environment where team members can freely share ideas, seek advice, and ask questions. Each reply in a channel message stay attached to the original message. This not only streamlines communication but also ensures that important discussions and information are centralized, making it easier for everyone to stay informed and engaged. 
In addition to channel-based conversations, Microsoft Teams enables direct messaging between individuals and group chats. These features are designed to facilitate instant and direct communication, encouraging open discussions and enhancing teamwork. Whether you need to quickly reach out to a colleague for a specific task or engage in a group discussion with multiple team members, Teams provides a seamless platform for real-time interactions.
Video Conferencing and Meetings
With just a few simple clicks, you can start a video call and connect with colleagues, clients, or partners in real-time. This convenience eliminates the need for complex setup processes or technical expertise, making it accessible for all employees. Microsoft Teams offers a range of features that enhance collaboration during meetings. For instance, screen sharing enables seamless presentations, allowing participants to share their screens and showcase important information or documents. Virtual whiteboard provides a digital space for brainstorming, enabling team members to add notes, images, diagrams, and more to a board, regardless of their physical location. 
Furthermore, Teams allows you to record meetings, ensuring that valuable discussions and insights are not lost. You can share the recording with your colleagues with just one click within the platform. This feature is particularly beneficial for absent team members who can catch up on missed content later. It also serves as a useful resource for future reference, enabling teams to revisit important discussions or decisions made during the meeting. 
File Sharing and Collaboration
With Microsoft Teams, each team is equipped with a dedicated file repository, enabling members to effortlessly upload, edit, and share documents. This consolidation eliminates the hassle of searching through multiple platforms or email threads to locate important files. In fact, a recent study conducted by Forrester Research found that Teams reduces the time spent searching for information by an impressive 35% (source: Forrester Research, 2022). 
Another standout feature of Microsoft Teams is its real-time co-authoring capability. This functionality allows multiple team members to collaborate on the same document simultaneously, fostering a dynamic and efficient work environment. Whether it's editing a proposal, creating a presentation, or updating a project plan, everyone can contribute their expertise in real-time. This eliminates the need for tedious back-and-forth file exchanges and ensures that all team members are on the same page. 
To further enhance productivity, Microsoft Teams offers version history, which meticulously tracks document revisions. This feature is a lifesaver when changes need to be reversed or references to earlier versions are required.  
Integration with Third Party Applications
Microsoft Teams is revolutionizing the way businesses collaborate by seamlessly integrating with a wide range of third-party applications. This integration not only enhances productivity but also simplifies workflows, saving valuable time for everyone. Here are some applications that can be integrated with Microsoft Teams. 
Microsoft Office 365 (Word, Excel, PowerPoint, OneNote)
Adobe Sign
Evernote
Communication and Collaboration
Slack

 

Zoom

 

Webex

 

Google Meet
Google Drive

 

Dropbox

 

SharePoint

 

OneDrive
Customer Relationship Management (CRM)
Salesforce

 

Zoho CRM

 

Dynamics 365

 

Pipedrive
Power BI

 

Google Analytics

 

Tableau

 
Depending on your team's specific needs, you can explore the Teams App Store to discover more apps that can enhance collaboration, productivity, and efficiency within your organization. Instead of juggling between multiple applications, you can access and use them directly within Teams.  
For instance, imagine a marketing team collaborating on a campaign. They created a dedicated channel in Teams where they discuss strategies, share marketing assets, and even have video meetings. By adding tabs to the channel, they can seamlessly integrate CRM tools or social media scheduling platforms like Hootsuite, and analytics dashboards. This eliminates the need for constant app-switching and enables a centralized hub for all marketing activities.
Moreover, Teams supports industry-specific integrations. For example, healthcare organizations can integrate electronic health record (EHR) systems, while software development teams can connect with version control systems like GitHub or Bitbucket. These integrations cater to specific needs and streamline workflows within their respective industries.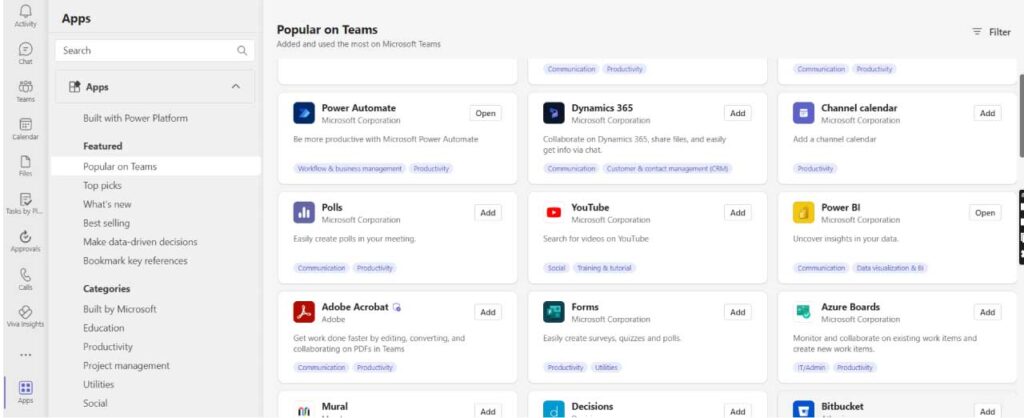 To make the most out of Microsoft Teams, here are some valuable tips and tricks: 
Use the

@mention

feature to get the attention of specific team members in a chat or channel, ensuring important messages don't go unnoticed.

 

Update your status to inform your team members about your availability or share your current task. This helps colleagues know when you're free for collaboration or when you're focusing on critical work.

 

Customize your notification settings to receive alerts for specific channels, mentions, or keywords. This ensures you stay informed without being overwhelmed by unnecessary notifications.

 

Use the

save message

feature to save important chat messages and refer back to them later. This is useful for preserving important information, instructions, or decisions made during discussions.

 

Use the

pin message

in a channel and the message will be displayed at the top of the channel, ensuring that important information, announcements, or resources are easily accessible to all team members.
Start Selling Microsoft 365 with WebNIC
Contact us now at [email protected] to learn how you can become a Microsoft 365 reseller and offer this game-changing solution to your customers. Don't miss out on this opportunity to provide your clients with a powerful collaboration platform. Act now and take your business to new heights with WebNIC.