We organised a webinar event and attended ICANN75, which got us looking back and thinking about the domain industry.
DigiCert Verified Mark Certificate (VMC) Webinar
We did a webinar on 6 September 2022 and we were excited to share news and insights about VMC for email security with our partners. VMC confirms a brand complies with DMARC email standards, and that messages sent by the brand are legitimate and sent from secured email domains. It enables users to see verified brand logo, even before they open an email, rather than seeing initials only in their inbox. It is a great for better visibility, better email security, better open rates and better user experiences.
For more info about DigiCert VMC, click here.
To view our webinar recording, click here.
Recapping on the event's experiences, our General Manager Miss Ebbie shared her post-event thoughts regarding the domain industry and SSL:
"Looking back on 18 years ago, the emergence of the Internet had transformed the consumption pattern to e-commerce. Back then, there was a boom in the market where offline brick-and-mortar stores and e-commerce were complementing each other. The year was also the most prosperous era of hosting services.
With the technological evolution of the Internet industry, e-commerce sales have gradually shifted to social media and online platform sales. Consumers have begun to patron on major platforms and the consumption patterns have shifted from TV commercials to live broadcasts.
It has been 22 years since the establishment of WebNIC in 2000 and the more than two-decade of hard work has also laid a solid foundation. WebNIC ranks among the world's top registrars and remains the number one domain registrar in Asia. At the same time, it took us four years to operate firmly as a Digicert MDRT agent and become a platinum agent.
When WebNIC's domain name registrations exceeded 3 million a few years ago, I asked myself, how far can the domain name industry go or advance, and how long will it take WebNIC to attain another peak.
Being a part of the webinar hosted by DigiCert and WebNIC on September 6th, it allowed us to see the trend of the Internet industry for the next 10 years. It does indeed coincide with the direction set by WebNIC and has made us more determined.
I am still optimistic about the prospect of the domain name industry. The reason is simple, because domain names are the foundation of the Internet industry.
DigiCert is a world-renowned network security product company and it is also committed to researching and developing security products as well as maximizing the market of network products. DigiCert is the leader of SSL – formerly known as SSL, now known as VMC. The research and development of these new products are always based on the domain name.
Now, this foundation has evolved into another level. From e-commerce 20 years ago, it has transited to the era of digital brand protection and management. Online fraud is rampant nowadays and the public is always confused by fake brands on the Internet. How should we respond to these problems?
Whenever we mention brand protection, we tend to think about the traditional trademark registration. However, trademark registration has its regional restrictions and the threshold is relatively high.
The digitalization of brand protection is an inevitable trend, while at the same time this trend is always based on domain names. Therefore, the change in consumption patterns does not mean that domain names will be eliminated. On the contrary, it has moved towards a more professional development.
What we need to figure out amongst ourselves is, in the face of such a trend are we ready and have we achieved a high level of competency and professionalism.

ICANN75 was held in Kuala Lumpur Convention Centre from 17 to 22 September 2022. The event has been a fruitful one for us at WebNIC, because we were able to meet up with various domain industry partners to catch up with each other after the lockdown. We exchanged precious thoughts and insights with each other, and the event also allowed us to improve our knowledge and identify the future trend of the domain industry.
During the event, we managed to meet up with representatives from iQ Global, Identity Digital, .id domain, .blog domain, .love domain, .cloud domain, .org domain, as well as .icu domain. The meeting sessions with them were rewarding, and we had a great time chatting with them.
We discussed about issues regarding the domain industry such as how to increase registrations, marketing approaches, abuse controls, partnerships and many more other topics. The discussions helped us to identify the current trend that is happening in the domain industry, and this has helped us greatly in improving our services to our valued partners. We would like to thank you all who joined us for discussions, and we look forward to having more sessions like these with more people in the domain industry.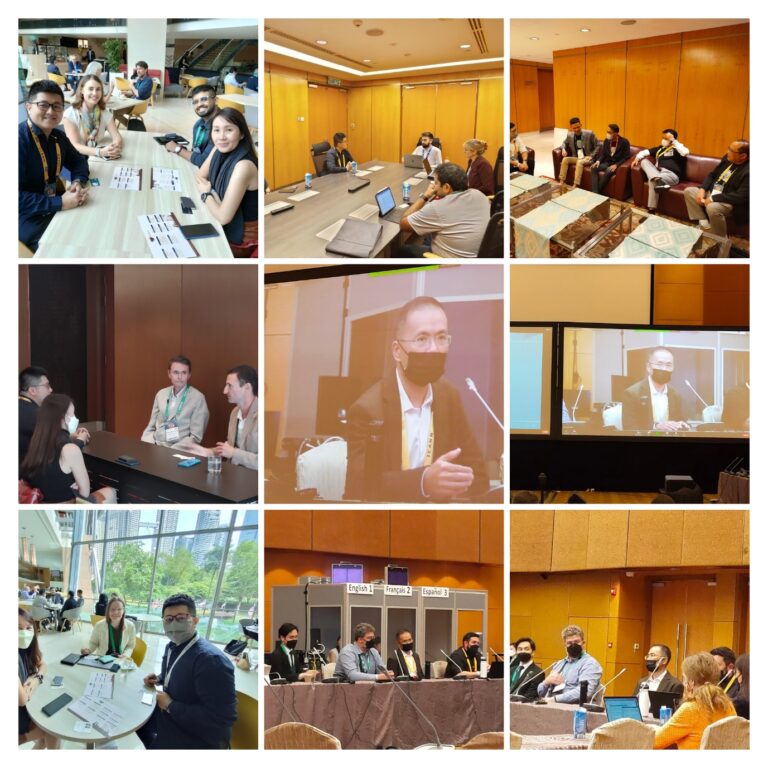 Our CEO, TK Tan was also invited to speak as a panelist in one of the ICANN meetings. He touched on the recent trends, challenges and opportunities of the domain industry during the session.
TK mentioned that there have been many mergers and acquisitions in the domain industry, and many big players have been consolidating and merging with smaller players. 
TK also shared that the pandemic did indeed help to grow the adoption of the Internet in 2020, as high as 3 times compared to previous records, especially in the ecommerce industry. However, the trend has come down in 2021, and it slowed down in 2022.
TK went on to mention that in terms of domain name registrations, there was not really a big jump in number, even for ecommerce industry giant Shopify. The reason was partly because many people chose to start their ecommerce shops using marketplace platforms or social media. He also said that nonetheless, the growth of the domain name registrations was there and ecommerce is the trend now.
The panelists, including TK also touched on the future challenges of the domain industry. It is unavoidable that increased compliance with laws and policies around the world will pose many new challenges, and industry players will need to make sure to keep themselves updated always. The ICANN Registrar Stakeholder Group (RSG) is a group of players who will address the challenges and communicate with everyone on how to navigate the new landscape of the domain industry.
Last but not least, TK shared his views on the market growth prospects and potential for the domain industry. He said that in Asia Pacific, there are still some countries which are underserved, and these countries are pockets of opportunities. There are many young populations coming up in these countries with ideas and startups. Registrars can seek business opportunities among them.
He also mentioned about new technologies such as Web3, which might be confusing and challenging. Therefore, he encouraged all aspiring registrars in the session to join ICANN, which will help any registrars in compliance issues, as well as navigating the challenges that registrars may face.
WebNIC Office Visit & Putrajaya Tour
We also hosted our partners for an office visit, as well as joining us on a short tour of Putrajaya, the governing administrative centre of Malaysia. The office visit was fun and we had fun interacting with each other.
The sightseeing trip was amazing and we had a great time taking in the views of the beautiful buildings in Putrajaya, as well as the remarkable landscape. The trip ended with a pleasant buffet dinner in Movenpick Hotel, a 5-star hotel near Kuala Lumpur International Airport.
WebNIC operates a digital reseller platform covering primarily domain name registration for over 700 TLDs, web security services, email and cloud services. With offices in Singapore, Kuala Lumpur, Beijing, Taipei and Jakarta, we serve 5,000 active resellers in over 70 countries. With over 20 years' experience, we accelerate our partner's growth through a robust platform, attentive support and wholesale pricing. To join us and become a reseller, live chat with us or email us at [email protected].