What is a Thai IDN .TW Domain Name?
A Thai IDN .TW domain name is a special domain name which uses Thai characters. It is an internationalized domain name (IDN), which enables people to use local languages for domain names. Local languages are usually represented in special characters and not written with the twenty-six letters of the basic Latin alphabet "a-z". IDN domains can come in various languages, such as Arabic, Chinese, Cyrillic, Devanagari, Hebrew, French, and in this context Thai.
An example of a Thai IDN .TW domain name:
ภาษาไทย.tw
Check out some example websites we created, which use Thai IDN .TW domain name:
The Importance of a Thai IDN
Thai IDN was approved for implementation by the Internet Corporation for Assigned Names and Numbers (ICANN) in August 2010. ICANN realises the importance of IDN, regardless of which language it is. Some community in the world have little to no knowledge of English and this makes it hard to introduce them to the Internet, which is mainly in English.
According to a survey done by education company EF Education First, Thailand ranks a level of very low proficiency in its English skills. As the Internet is mainly in English, this will indirectly impact the progress of introducing it to the Thai community. It will hinder them from being digital savvy and causes them to be left behind in this society where the Internet has become the backbone of the society. The Thai community might face a weaker competitive edge and lose out in this Internet driven society.
However, things have changed a lot ever since the introduction of Thai IDN. The obstacle to navigate the Internet in English has been largely reduced for the Thai community. This is made possible with the introduction of Unicode to represent the special characters of languages which are not in alphabets. It is also the technical which made any IDN possible. As a result, contents on the Internet is increasingly available in local Thai with the introduction of Thai IDN. The below illustration shows the positive result of introducing a Thai IDN to the Thai community.
Individuals using the Internet (% of population) – Thailand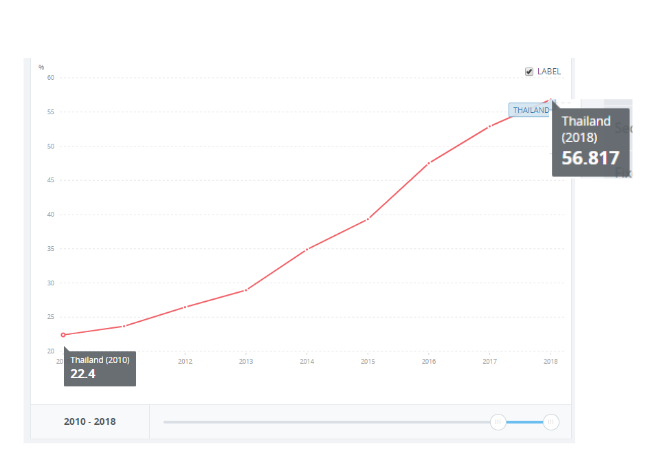 Data from: The World Bank
It can be seen that the Internet adoption among the Thai community has increased at a strong momentum since the introduction of Thai IDN in 2010. There are many benefits in using a Thai IDN domain name as listed below.
The Benefits of Using a Thai IDN Domain Name
Localised and native Thai language
A Thai IDN domain name is in a localized Thai native language and makes browsing the Internet easier and friendlier for the Thai community. Its usage can speed up the take up rate for the Thai community to use and enjoy the convenience that the Internet offers in their everyday lives. Many of them are not proficient in English, which the Internet is mainly in, and this has become an obstacle for them. Therefore, the main benefit of using a Thai IDN domain name and Thai characters on the Internet is that the Thai community can enjoy the Internet more than ever, without language restrictions.
Unique and strongly distinguishable
Using a Thai IDN helps websites to stand out in the saturated Internet landscape, because Thai characters are unique and strongly distinguishable, compared to alphabets. A Thai IDN helps to attract the right target audience for businesses who are looking to interact with the Thai community. It helps businesses to resonate well with them and as a result, businesses have a higher probability to successfully capture the Thai market, regardless of what products or services they are offering. The benefit of using a Thai IDN domain name is to have a unique and strongly distinguishable domain name to attract Thai audience.
High name availability
In addition, the Thai IDN domain name space is also less saturated, resulting in a high name availability, if compared to other well-known domain extensions such as .COM, .ORG, .NET and others. People who try to register for a Thai IDN domain name will discover that their desired names can be easily registered, thus enjoying lesser worries about the domain name being taken and the need to come up with alternative names. Using popular keywords in the domain name is also more likely to success for businesses who want to target keywords of their industry, as the competition is lower. The benefit of using a Thai IDN .TW domain offers a high name availability for registrants and businesses.
Conclusion
A Thai IDN .TW domain name is beneficial to the Thai community of Internet users. It is in their native language, which will improve their overall Internet experience. It feels more familiar to them and it will definitely help to grow the number of Thai Internet users. It is also good for businesses who want to stand out on the Internet among the Thai community. It also has a higher name availability, making registration more likely to be successful.
The good news is we have reached a partnership with Taiwan Network Information Center (TWNIC) to offer free registration for a Thai IDN .TW domain name. For a limited time, we welcome any interested partners to register a Thai IDN .TW domain name for free. We would like to take this opportunity to encourage our Thai partners or any interested partners to expand your service by offering this domain to your customers. It is literally zero cost for you and you can earn more profits. Quick, encourage your customers to register one now! Email us at [email protected] for more info.
About WebNIC
WebNIC is an accredited registrar for ICANN, and various countries including Asia, Europe, America, Australasia, and Africa. With offices in Singapore, Malaysia, Korea, Indonesia and Taiwan, we serve 4,500+ active resellers over 70 countries. To join us and become a reseller, live chat with us or email us at [email protected].