Introducing DigiCert Smart Seal, a brand new dynamic SSL secure site seal
A brand new member to the SSL site seal family is now available from DigiCert, one of the most trusted names in the SSL industry. The SSL site seal has been around for some time, and DigiCert is making great strides to redefine it in this whole new modern era of digital landscape. Hence, just a few months ago they launched the DigiCert Smart Seal, a brand new dynamic SSL secure site seal. In case you are not sure what is this, click here to read more about SSL certificate site seal indicator and its importance.
What is DigiCert Smart Seal?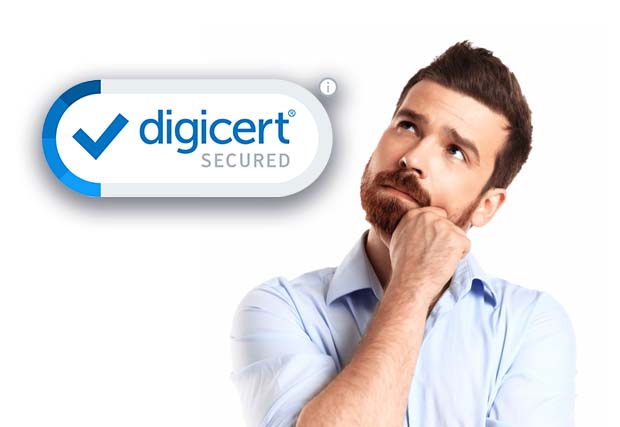 DigiCert Smart Seal is a modern approach to the traditional SSL secure site seal. It is more than just a seal in which it incorporates real-time security indicators with users' microinteractions, giving them extra confidence and empowering their trust when they browse a site. The powerful feature of a DigiCert Smart Seal is that it is able to dynamically display identity and PCI status with an industry-first verified logos and other modern features, which is not found in any other SSL site seals.
What is different in DigiCert Smart Seal?
Conventional SSL secure site seal for most of the time, has been just static images, which can be easily duplicated to deceive users. However, DigiCert Smart Seal is different. It is just like any SSL secure site seals, but smarter and improved.
It is designed to be seen and understood easily, while at the same time difficult to duplicate, which prevents spoofing, fraud and misuse by any ill-intentioned parties. Now, it is much more eye-catching with vivid animations, making it smarter and improved for today's Internet landscape. The Internet is very different from what it was 20 years ago, and DigiCert has taken this into account when designing it. Now, it all changes with DigiCert Smart Seal!
How does DigiCert Smart Seal work?
Visual cues are now extremely important to help users reach their decisions, especially in this modern digital age of short attention span! So, how does DigiCert Smart Seal work and take this into account? The answer is eye-catching and vivid animations that are hard to create without using the right method to install the seal!
When users roll over it, they see a company's logo that has been verified by DigiCert, presented in smooth animations while also displaying useful information about the site's security. The information is delivered right to the seal real-time, and users can click on it to display more useful verification information without leaving to verify the legitimacy of the site.
Here's some snapshots of how a DigiCert Smart Seal works:
In addition, when the seal is clicked, it will produce a splash page with details including: Company name, address/location, date issued, level of encryption, verified customer since (date), CT logs used, blocklist check, vulnerability scanned, PCI compliance scan. Check out our example splash page below:
To experience how it works fully, please visit https://www.webnic.cc/ and scroll to the bottom footer to have a look!
The benefits of using DigiCert Smart Seal
Firstly, DigiCert Smart Seal is designed to redefine how SSL site seals are seen and understood by users. It provides simple and easy interactions for them to engage with it, helping them to learn more about the security information of the site. Users who value security and safety can view extra validated info of the secured site easily and without hassle with just a click. DigiCert Smart Seal helps users to make safe and informed decisions in transacting with a site.
In addition, DigiCert Smart Seal is also able to increase and enhance brand assurance. As mentioned before, it is smarter and improved over the conventional SSL site seals, which is difficult to duplicate, spoof and misuse. This will in turn reduce the risks of brand abuse, fraud and misuse on malicious sites. Users trust featured and validated brand logos, which is perfect for extra brand safety assurance.
Last but not least, DigiCert Smart Seal is equivalent to the mark of an organisation which values safety and security. It is an easy and effortless way for organisations to feature security as their core value. Brands can put security at the center of their brand message by displaying verified logo in a visually engaging way using DigiCert Smart Seal. This will make users very much more confident in doing business with them, increasing business success.
DigiCert Smart Seal comes free with all Secure Site and Secure Site Pro SSL certificates
In conclusion, DigiCert Smart Seal is designed to work smarter in this modern digital age. The world is a whole lot different now from the early days of the Internet, therefore DigiCert Smart Seal is a whole new approach to the conventional SSL secure site seals. It only brings benefits to website owners and it doesn't have any cons.
The good news is, it comes free with all DigiCert Secure Site and Secure Site Pro SSL certificates. If your customers have taken the extra steps to secure and validate their sites at the highest level, why not help them let their customers know?
Enable DigiCert Smart Seal with WebNIC
Displaying a site seal on websites assures the authenticity and credibility of the websites, giving users increased level of trust. It is the right thing to do, and every organisation should do it. Get started in enabling DigiCert Smart Seal with WebNIC, a DigiCert Certified Platinum partner. You should enable it for all your customers who have them. There are two ways you can do so:
If you have access to DigiCert CertCentral platform, then the process is extremely easy and takes only 10 minutes with just a few ticks. Follow the instructions here.
If you do not have access, kindly send an email to us at [email protected] and we will help you to do it. Alternatively, visit our DigiCert Smart Seal info page and submit the form there to request for our help.
If you have any inquiries about DigiCert Smart Seal, just send an email to the email address above. We are more than happy to help you.

WebNIC operates a digital reseller platform covering primarily domain name registration for over 600 TLDs, web security services, email and cloud services. With offices in Singapore, Kuala Lumpur, Beijing, Taipei and Jakarta, we serve 5,000 active resellers in over 70 countries. With over 20 years' experience, we accelerate our partner's growth through a robust platform, attentive support and wholesale pricing. To join us and become a reseller, live chat with us or email us at [email protected].