Are you a person who likes to share what you had experienced to every people you has met? Or you are a person who has a good talent and you would like to share your writings or creative artworks to people? As the blogging community continues to grow, it is a good opportunities for you to start blogging now! Here are the 5 reasons why you should get started.
1. Get extra pocket money
Did you know that you can make money from blogging? Once your content had successfully attracted an amount of audience every month, you can make use of them to earn some pocket money through advertising on your blog.
There are several ways to make money with advertising on your blog, while the most common way is "pay per click advertising" from online advertising platform like Google AdSense. You will need to have some space on your blog in order to place ads, remember not to put too much ads, which will lead to counter-effects.
2. Benefit to your career
Having a blog that demonstrate your career-related talent might give you an extra mark in the eyes of your ideal company, which helps you to stand out from the crowd. Even though your blog are not career-related, it might still be an added advantage for you, as it shows how skilled, knowledgeable and proactive you are when you manage or promote your blog.
If you own a company, writing blog articles will also contribute to your company website traffic. According to research, companies that blog have 55% more website visitors than does who don't blog.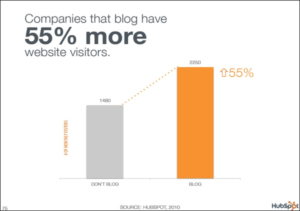 3. Build your network
Starting a blog is one of the best ways to expand your network. If your blog post is interesting enough, you can attract an amount of loyal customer that often comment and exchange knowledge with you. More than that, you can also develop relationships with other writers that willing to share their ideas, knowledge and resources to you, and also pass on your ideas, knowledge, and resources to others.
A good networking will help raise your profile. As more people start to recognize you, it helps build your reputation as a reliable and knowledgeable person who offers supportive tips to people in the relevant field.
4. Become an expert of your field
Blogging is also a great way to showcase demonstrate your expertise on a specific topic by publishing blog posts regularly that are accurate, informative, and recognized by the majority of people. Once you had achieved that, you may have become an expert in the eyes of others.
If you successfully position yourself as an expert, you may get consideration for careers, awards, or consulting opportunities. You might able to earn recognition as an authoritative source or a thought-leader by industry insiders.
5. It is easy to get started…
With dozens of blogging platforms and tools available on the internet now, starting a blog is easier than ever! Just be careful on choosing a reliable blogging platform, a blogging platform will be considered great if they provide: 1) reliable speed and uptime; 2) easy-to-manage control panel; and 3) great quantity of creative layout and design.
In order to make your blog more unique, a .blog domain name is a good choice for you to invest in! Having the modern .blog extension makes your URL look more intuitive and style, as it is different from the traditional domain which contains the name of the blogging platform. Other than that, it might also help rank better in Google Search.
Blogging

in a nutshell
Blogging offers numerous benefits beyond just making extra pocket money and boosting your career. It provides a platform to share your ideas, connect with people who share your interests, and establish yourself as an expert in your field. Additionally, blogging can be a fun and creative outlet that allows you to express yourself and explore your passions. With so many easy-to-use blogging platforms available, there's no reason not to give it a try and see where it takes you. 
.BLOG is available on WebNIC
WebNIC is a leading authority in technology services, a one-stop online solution focused on domain wholesale service, online security solution, trademark protection, and digital brand management. We are a registrar for ICANN, and various countries including Asia, Europe, America, Australasia, and Africa. With offices in Singapore, Malaysia, Korea, Indonesia and Taiwan we serve 4,000+ active resellers over 60 countries.
For more info visit us at [email protected]